Industry News
---
Industry News : Archives
Global Trends
---
New for old : Spike (Flemina) According to Ineos Styrolution. healthcare application providers are torn in two directions when it comes to working with new materials.

Healthcare application providers are torn in two directions when it comes to working with new materials. On the one hand, they would like to build superior devices to existing ones – or all new applications that cannot be realised with existing materials. On the other hand, every new material requires lengthy approval processes...
Medical Implants Drive Growing Demand For Ultra-High Molecular Weight Polyethylene
Demand for ultra-high molecular weight polyethylene (UHMWPE) for the fabrication of orthopedic and cardiovascular implants is driving growth for the material in global markets, according to a report from Technavio (London). The study projects a compound annual growth rate of more than 9% during the 2017 to 2021 forecast period...
Archive
Did You Know?
---
About Using Medical Polymers Reduce Hospital-Acquired Infections
Hospital Acquired Infections (HAIs) affect millions of people around the world and cost healthcare systems billions. Whether the cause is reduced staffing in hospitals (resulting in less time for healthcare workers to thoroughly disinfect between patient visits), the increasing resistance of certain pathogens to current sterilization procedures, or any of a dozen other reasons, this problem continues to affect patients needing healthcare...
Learning Zone
---
For centuries, plastic surgeons, obstetricians, urologists, dentists and oral surgeons and even veterinarians have used stitches to close up the gashes, cuts and surgical incisions. Now, many physicians are using some form of dissolvable stitches (also called absorbable sutures). The great thing about dissolvable stitches is that they can be used on internal or external wounds...

Market Trends & Analysis
---
Capitalising On India's Growth Potential : Medical Device Industry Will Not Be Left Behind
The Indian economy is growing strongly, and will continue to provide a conductive macro-environment for the industry to grow in.
The government is increasing spend on healthcare; and the Indian population is spending an increased amount of money on healthcare as a percentage of disposable income.
The disease profile is changing with an increase in acute diseases along side growth of chronics.
Health insurance is growing...
---
Design pros are looking for sustainable opportunities in the medical device field -- but they're not always easy to find. "We tend to overlook cycle time...


Medlab 2018
5-8 February, 2018
Dubai International Convention and Exhibition Centre, Dubai, UAE

MD&M West 2018
6-8, February 2018
Anaheim Convention Center, Anaheim, CA

India Medical Device 2018
15th - 17th February, 2018
Banglore International Exhibition Centre, Bengaluru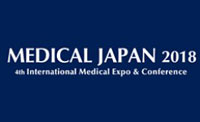 Medical Japan 2018
21-23 February, 2018
INTEX Osaka

Future Healthcare 2018
13-14 March, 2018
Olympia, London